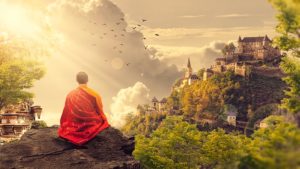 When I start teaching a new Meditation & Mindfulness class every quarter at UCSC, I have learned to expose the biggest obstacle every student runs into.
It's not your busy monkey mind

It's not your

antsy

body that can't sit still

It's not your

noisy

environment

It's not your lack of energy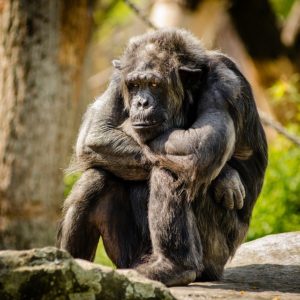 These are valid challenges, for sure, and ones you'll have to deal with along the way. However, they are not the primary obstacle.

The biggest obstacle everyone faces in how to start practicing mindfulness is actually taking the time to Sit down and do it, and making it a priority in your life. Period.
What Motivates You To Start This New Practice?
Let's explore this obstacle first to help you become more successful in actually starting your practice.
Your answers to the questions:
"

Why

do you want to learn mindfulness?" and

"

How important

is it to you?"
will show you how successful you'll be.
Seriously, please write down why you want to start a mindfulness practice and how important it is to you. Take a few moments now and just write a few sentences about it. This piece of information will come in handy when the outside world or your busy mind want to pull you away and have you do something else.
As simple as it may sound, this is an important step that becomes your anchor and fuel for your practice.
It all boils down to how committed you feel before you start.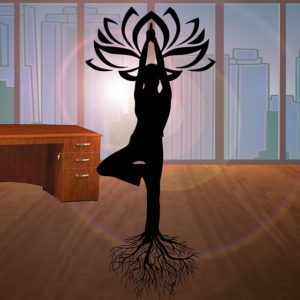 It reminds me of a series of articles I wrote about how to succeed in your commitment, not just to a mindfulness practice, but to anything. Feel free to read How To Commit And Succeed, Committing From A Felt Sense, 7 Steps To Successful Commitment, or more to support you in your new practice.
It's very common to get excited about a new idea and what it may do for you (the why question). Then when push comes to shove, you realize you actually have to change certain habits and behaviors in order to make room for this new habit (the how important question).
Uhhhh…, well…, I didn't know that…, you mean I…?, what about…?, I thought…
Sound familiar?
Those remarks clearly have other priorities at the top of their list and we need to know what they are.
Our Physical And Emotional Priorities Always Win Out
Our brains are hard-wired for physical survival and safety and unless we are conscious of those default wirings, they will always seem more important than a mindfulness practice. "I need to work overtime – feed the kids – pay my bills – work out – study more, I'm too tired ……….." Endless reasons not to Sit, Meditate and become Mindful.
I'm not sure that we are also hard-wired for emotional survival and comfort, but these days they feel as urgent as physical survival used to, when we lived in the wilderness as hunters and gatherers. Maybe even more so. Do you ever feel that you need to do more, own more, connect more, sleep more, tune out more, texts and face book more, be loved more, earn more, buy more, lose more, win more, excel more etc? Endless reasons not to Sit, Meditate and be Mindful.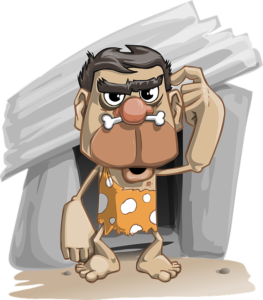 I recently read
You can take the person out of the Stone Age, not the Stone Age out of the person 
I partly agree with this quote when you are not conscious of this survival mechanism. With a strong commitment you can rise out of it. Commitment to a strong Mindfulness practice is essential if you want to shift from being lived by 'Stone Age' in you, to creating a life based on totally different values. I refer to these as New Paradigm Values.
Without going too deeply into this subject in today's article, I just want you to know that inside of you and me lives this Stone Age which is far more interested in survival, safety, certainty and comfort than to Just Sit. One of the ways to 'take Stone Age out of you' is through Mindfulness. You need to become mindful that in fact there is an ancient energy inside you that only knows about survival, and that You are bigger than that. Mindfulness helps you become aware of the Power of Choice, and I promise you, you'll going to need it.
How To Start Practicing Mindfulness Without Survival Wiring Getting In The Way
OK, I hope it makes sense that understanding the obstacles first, is how to Start practicing Mindfulness. The way to not let Stone Age get in your way is to be acutely aware of this ancient energy, so you can catch it before it catches you. This is where the Power of Choice comes in.
If 'you catch it' first, you are able to choose to Sit no matter what Stone Age suggests. If 'it catches you' first, you won't Sit that day and only realize later what happened after you are out of its grip.
Mindfulness will help you catch it before it catches you, which is another good reason to work on your commitment to the practice first. Once you can FEEL your commitment in your bones, you always have access to your choice to Sit.
Finally – How To Start Practicing Mindfulness

Commit to at least 10 min a day the first week to carve out space

and time

to just

S

it down and get used to incorporating this

new practice

into your life.

Use this time to get clear about your commitment.

Sit! Just Sit down and

feel

if

this is really what you want. Sit down and

feel

that

this is really what you want.

Be clear

that

this is really what you want

before you start.

If it is,

Sit down and congratulate yourself for choosing to start your practice.

FEEL

your commitment.

Be Mindful of this FEELING of "Yes, I want this."

Where do you FEEL this? How strong is this Feeling? Does it make you feel inspired?

Motivated?

Empowered? In charge of what you want?

Can you feel the good Energy in those Feelings?

You are going to need

them

down the line, because it is the FEELING that you are committing to!

I highly recommend that you

FEEL

your commitment on a daily basis for a long time.

If you can't really

FEEL

your body resonating with a YES inside, you may not have enough fuel in your tank to continue on your path.

Remind yourself of

Why and How Much you want to start this practice. The Felt Sense of your commitment

(the 'h

ow much'

)

to your practice

IS the fuel you need to succeed. If you're only lukewarm, consider what is more important in your life. If there is something else you want more, then by all means do that. It is OK to dabble between the 2 for awhile, and if you keep finding excuses for not doing your practice, let it go until you feel more motivated.

At least you won't have to add another

'failed commitment'

to your list.

T

h

ese 2 first steps are

actually already bringing mindfulness to your life. You are becoming mindful of what is important to you and what isn't. You are becoming mindful of making conscious choices instead of mindlessly going from one thing to the next without really knowing why. These first steps will serve you for the rest of your life, and once you really start your practice, you'll feel more empowered to

m

ake conscious choices and creating the life you want.

So really FEEL what it FEELS like to

consciously

commit to something from a Felt Sense in your body. A FEELING of "Yes, I want that." Get used to this Feeling. It's going to be your best Friend on your Mindfulness path.

T

he stronger you can FEEL it, the easier it is to say No to

Stone Age's

different suggestions and distractions,

and Yes to creating a new life experience outside of survival, comfort and certainty.

OK, I assume you have chosen that you really want this, know why and how much. Now, let's look at why you want it. Is it because you want to feel more peace in your life? Do you want to get to know yourself better? Is there something inside you that strongly pulls you inward?
Add or expand on the answers of your why

and

how much list.

This is your fuel tank and by going over it on a regular basis, especially in the beginning, you keep your tank full and yourself motivated to continue. It builds the resilience you need to withstand the pull of the world to do other things.

Now

you can shift your attention to your breath. S

tart using those 10 minutes a day to just follow your breath.

Feel your inbreath and feel your outbreath. Pay attention to

your body as you breath

e

in and how your belly expands. Pay attention to your body as you breath

e

out and

how

your belly falls. Do your best to just follow your in and out breath a

long with

the rising and falling of your belly for 10 min.
You are beginning to train your awareness to focus on one thing instead of being all over the place.

Our minds are totally out of control and need to be reeled back Home.

In one way it doesn't really matter what you focus on, because the point of this

beginning

practice is to help focus your mind

and

strengthen your ability to focus on one thing.

As you start with 10 min. a day to just practice following your breath and strengthen your ability to focus, you'll also become aware/mindful of which particular thoughts are more insistent. Start noticing which thoughts or train of thoughts are your default. Which ones pull you away from your breath without a 'second thought.' This second thought could become you choosing to stay with your breath.
Congratulations! You have overcome the first obstacle and are in the process of filling your tank full with commitment, choice and a Feeling of empowerment that you can do this. If you keep committing to this daily, nothing can stop you. Soon you'll shift to autopilot and you can't even imagine why you wouldn't Sit today.
I think you are off to a great start if you can follow these 6 steps how to start a meditation practice. Leave technology behind, close your eyes, follow your breath.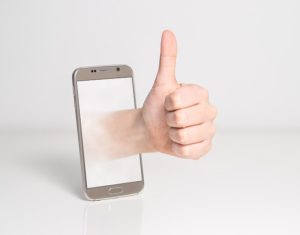 This is a start. This is the foundation that you can come back to any time no matter how busy your life is or how convincing your mind is to have you do other things. You know what you are committed to now and are getting stronger and stronger every day as you fulfill this commitment.
Of course there is a lot more to a mindfulness practice, and if you can't wait to continue, I would suggest to start with the online class that I've taught live at UCSC since 2008.
To keep you motivated, you get 50% off this downloadable program when you sign up on DivineFeminineFlow and wait for the email with the discount code.
I know, it's easier said or written than lived, isn't it? That's why I offer you a free 30 min Discovery Session so can 'discover' what kind of support you may need so you can start living what you know is your Truth. You can also start with my book Imagine Being Kind To Yourself and see if that is enough to get you going. Much more information to be found at Divine Feminine Flow. Go ahead and browse through all the blogs and podcast replays.