Living without Self Love is not something most of us are aware of or even consider could be the cause of feeling unhappy or empty inside. I certainly wasn't when I went through a very painful and challenging time in my life many years ago. We are so conditioned to looking outside of ourselves for our happiness and fulfillment, that taking a peak inside sounds foreign. However, when the pain of separation inside gets too big, we get a chance to change our view and find a greater authority inside that can help erase the 'out' from the without Self Love and start living a life With Self Love.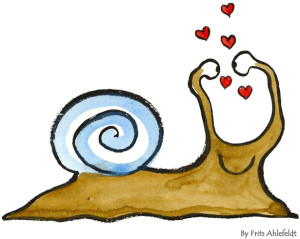 Let's go ahead and explore this together.
The Signs Of A Life Without Self Love
When you are not Loving Your Self, you will most likely feel empty, unhappy, overwhelmed, unfulfilled, lesser than, disconnected and lonely inside, accompanied by feelings like anger, hate, resentment, blame, fear, hopelessness, stress, giving in, self doubt, cheating and so much more. On top of that, you may find yourself working really hard to either get rid of these feelings through over-working, over-shopping, over-drugging, compromising, ignoring your own needs and spending too much time on social media, etc, hoping it will make you feel better.
I'm sure we all have our unique way of soothing or protecting ourselves in order to not feel the pain of inner division and separation, caused by excluding ourselves from our natural needs and denying ourselves what truly matters. Talk about a life without Self Love! It keeps amazing me how much energy we spend on not feeling and how that contributes to exhaustion and lack of motivation.
These are all signs and symptoms when True Self Love is missing in your life, yet not the first 'remedy' you look for to find a solution to these symptoms. We're used to going outside of ourselves to find temporary relief, and there is nothing wrong with that as long as you realize that it is only temporary. 
The Inner Medicine Chest – Your Heart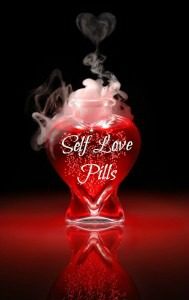 A more permanent solution is to go inside – into your Heart – and look for the Self Love bottle that will help you heal the division between you and yourself, that has caused this pain all along.
From my own experience I've seen that when this division heals, Peace, Love and Joy arise as natural expressions of our authentic, undivided Self. I know in my Heart that when we learn to apply True Self Love, it will have a global impact on creating a peaceful, happy, healthy world, but it's not something that you can just 'do' overnight.
However, it IS something you can make your daily practice and slowly begin to experience inner peace, inspiration and intimacy with yourself on a whole new level.
How Then, Do I Love My Self?
I'm glad you asked. Let's read the instructions label on the Self Love bottle first to understand the benefits before you ingest it. It says:
The Frozen Drop Metaphor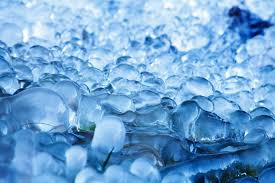 Imagine yourSelf as a big ocean of Love, in which there are lots of small frozen drops here and there – or maybe everywhere – that make you feel cold, separate and unloved. These drops keep you looking for someone or something on the outside to warm you up and thaw these frozen drops back into flowing water.
Water can show up in 3 different states, ice/frozen, fluid/Flow or steam/vapor. Whatever state it is in, it is still H2O. Most of us don't enjoy the frozen state of H2O as it relates to our own life and makes us long for warmer temperatures to melt back into the Flow state of water. How does the Mediterranean sound?
There is a natural progression from ice to water and from water to vapor and you can't skip the middle step of water in case you long to transcend into vapor.
As you can see it's really just a matter of an increase in temperature to make the shift and I have yet to find a better heat source than Love itself: Love towards your Self and Love towards the frozen parts of yourself, which you've been trying to avoid by all the strategies mentioned in the first part of this article.
Please consider all these frozen drops as the painful feelings you've been trying to get rid of by unconsciously adding even colder temperatures, such as resistance, judgment or blame, and wondering why you're still feeling like s..t.
If you see these painful feelings as frozen drops, what do you think your sadness needs? Or your anger? Loneliness? Confusion? Fear? It gives you a different perspective, doesn't it?
Love Is A Good Heat Source
Even though I am curious to hear your answers (feel free to share them below), I think it's quite obvious that all these painful emotions will start softening and melting when we give them some real Love.
Have you ever cried or felt like crying when you were scared or sad and someone offered you kindness and Love?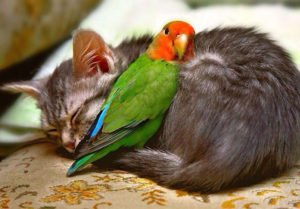 It felt good didn't it? Maybe it surprised you to suddenly notice tears rolling down your cheeks when you least expected it. This is a sure sign that some of the frozenness is melting just by applying the heat Source of Love, and we all have access to that Source. Today we are going to try one application from the Self Love bottle and see how your body reacts.
For some people with painful trauma, there may be so many frozen drops that the ocean feels like it has turned into one big iceberg. In those instances it needs a little more time before the frozenness is able to Feel this heat, which of course only means you need to take more than one application from 'the bottle!' More heat, more Love, certainly not less just because it doesn't start melting right away.
It all has to be ingested with loving attention to make sure your body is able to process it without going into overwhelm or confusion. Too much of a good thing is still too much.
Eventually no frozen drops, however big or small, can resist the heat of True Love and over time they will melt back into their natural Flow state.
Cold Shoulder?
There is a tendency in all of us to just want to get rid of any discomfort, whether it's physical, emotional or mental, and this sets up a wall of resistance that prevents the frozenness to melt. It's like adding even more cold to the frost with the resistance of a cold shoulder instead of offering it the warmth of kindness.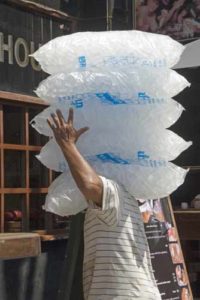 A lot of our discomfort has to do with our attitude and how we relate to it, so it's important that we also become aware of our relationship to our frozen parts.
A good inquiry is: What part of yourself have you been giving the 'cold shoulder' by ignoring, judging and suppressing it? Notice the low temperature of this attitude and feel how it just keeps the frozen drop frozen instead of melting it.
Are You Ready To Raise The Temperature?
and learn to include yourself so you don't have to live without Self Love again?
OK, let's take one application out of the Self Love bottle and find out what happens.
Here's how you do it, 5 steps:
1. Where In Your Body And Mind
First become aware where in your body or mind you are feeling tightness, pain or discomfort.
Is it a stiff neck?
A pain in your Heart?
A fear in your belly?
A concern in your mind?
Whatever it is for you, take your time to just become aware of the physical sensations of your variation of a frozen drop.
2. What Is Your Body's Reaction?
Then become aware of your body's reaction to this discomfort. How do you manage it?
Do you tighten and hold your breath?
Try to push it away?
Distract yourself?
Take a drink? A pill?
Dive into work?
These are the ways we resist Feeling discomfort, because we don't know what else to 'do' with it!
Nobody taught us how to deal with it differently, so that's how we all learned to cope. Even though it may have worked up until now, I'm guessing you want more than just coping, and are interested in learning better ways how to handle it.
3. What Is Your Inner Relationship?
Next let's explore your inner relationship to the discomfort.
How are you resisting this discomfort through your mind and emotions? Get curious! Curiosity is the opposite of resistance.
Are you telling it to go away? Judging yourself? Embarrassed about it? Arguing with it? Feeling ashamed of yourself?
If yes, can you feel how chilled your relationship is to the discomfort and how it is not helpful in raising the temperature?
Hopefully this helps you see how your relationship to the frozen drops keeps them frozen, and will motivate you to learn how to raise the temperature.
4. Getting Curious In Stead Of Resisting
Now we are going to get curious about the discomfort itself so you can change from 'without Self Love' to 'with Self Love':
Breathe into the area in your body that feels tight and uncomfortable and instead of resisting it (your cold shoulder), get curious! What is this 'thing' that feels uncomfortable anyway? Try to create a little space around it as if you want to learn more about it. Meet that part of you with a kind Yes, instead of a go away.
Breathe into it with a kind attitude and be curious about what this part of you needs or wants or is trying to tell you. Take your time and keep breathing into it with a kind, curious attitude and notice what feelings, images or other information come to you. Make space for it all.
When you stay with it long enough with openness, the frozen drop can soften and start revealing to you why it's been so scared, angry, sad. It happens quite naturally when you give it enough time.
How about finally  That is often the first obvious step.
5. Listen With A Kind Attitude
What happens when you take time to listen with a kind attitude – really listen from a place of openness to learn about yourself? What happens when you listen to it with care and respect so the pain, the anger, the fear or sadness can let you know what it is angry, scared or sad about? Keep noticing what happens and do your best to allow it and make space for it.
Does your breath deepen?
Your body soften?
A tear?
Are you surprised that your body is actually letting you know something you've been trying to push away, and that that may be part of the cause of your pain?
This is a great start and I would Love to hear from you what you learned from this first little exercise. What did you experience by taking your first Self Love pill and just being curious instead of resisting? Does your different attitude towards this frozen drop help it melt a little?
I hope this first application opened up a door for you to want to learn more about what your inner medicine Chest has to offer and if you want to place a bottle of Self Love on the top shelf.
It's quite amazing how little it actually takes to raise the temperature and help transform what we normally want to get rid of, into a more peaceful state.
More Ways To Stop Living Without Self Love
If you feel inspired to continue your exploration of what it might Feel like to stop living without Self Love and learn how to melt frozen drops, I have a few suggestions so you can start right away with what fits your current lifestyle and circumstances best.
If you want to take your time to explore this at your own pace, start reading Imagine Being Kind To YourSelf – a downloadable ebook that has practical, transformational exercises at the end of each chapter to help you change your relationship with yourself and thereby raise the temperature.

If you want to take a deep dive

and get help from an experienced Self Love Mentor

, you can book a free 30 min. discovery session with me to see if you are ready for the dive to learn this skill more fully. Working with someone who has walked this path before you helps you move through it easier with less dead-end roads and

 is guaranteed to

make big changes in your life – for the better!

If you just want to

dabble and nibble

, you can download my free ebook 5 Steps To Dive Into The Divine Feminine Flow

which outlines the steps in more detail and offers you the opportunity to practice it too.
Please stay in touch.
ALL Love,
Pernilla
Are you ready to change without Self Love to with? I hope so. I am here to help you in this process if you need it. You can learn more about my work as a Self Love Mystic & Mentor at Divine Feminine Flow. Feel free to contact me for a free 30 min. Discovery Session to learn how true Self Love can turn your whole life around.