Have you ever been wrongly accused of something, leaving you with a look on your face that says: HUH?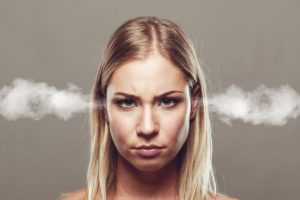 And then, do you feel a bunch of emotions arise, like confusion, shock, anger, fear and rage? It's actually quite normal to feel that way when you have been wronged, unjustly accused and 'didn't do it.' It triggers your survival mechanism and your need to defend yourself. If your rational defense is not received in a proper way, don't be surprised if you feel rage, resentment or revenge. Wow, 3 r's in a row! I wonder if you've ever considered using mindfulness to transform rage into empowerment instead of getting lost in the rage and acting it out?
Tongue-tight
The initial perplexity and shock of being wronged can easily make you feel speechless and unable to respond from your Inner Authority. You may find your knees buckling and struggle to stand your ground and speak your truth with confidence and conviction.
After the shock, when speechlessness and the frozen response subside, your natural survival response shows up next.
Let's face it: A wrong accusation is a threat to your emotional, mental and/or physical body.
Rage And Revenge
As you start coming back to your senses, rage, resentment and a twang of revenge are next in line. Now what do you do?!? Do you act it out and cut a hole in their tires? Do you yell at them letting them know how wrong they are? Or do you secretly brood inside, sending out negative vibes, hoping lightning will strike them? Maybe a little extreme, but is it really?
I know when I am being wronged, I easily go through those stages, as my survival instincts try to keep me safe. After the initial shock wears off, the next layer presents itself, and then the next and the next. We may all have our own sequence and layers, but at some point, unless you are totally frozen in fear, you're going to meet an energy that wants to act out. It wants to correct the wronged. This action is coming from the reptilian brain, which only knows about survival and has no direct access to your Inner Divine Authority or even just to a more constructive way of dealing with the situation.
If you want to learn to respond in a more conscious way, you need to be able to take a step back from this lill' brain. You'll have to know how to connect to your inner Authority instead, before you get sucked in and end up doing something you may deeply regret.
Using Mindfulness To Transform Rage Into Empowerment
Mindfulness is essential to be able to separate yourself from the rage energy and your reptilian brain. Mindfulness is a skill we all need when we start evolving out of the survival brain and embrace higher Virtues and Solutions.
Let me share a personal story and how I received the valuable Gift of a deeper Sense of my Inner Divine Authority from it. I used mindfulness to transform rage following these steps.
Initial shock: I was falsely accused of something that clearly was so far from reality, that my jaw dropped and I got that HUH look on my face. Inside I was

checking

if any of th

ese

accusation

s

had reality, even a small twinge. No, nothing. Let me look again from another angle. No, still nothing. Am I accusing others

like that

,

and

this is a mirror for me? Looking, looking, looking. No, still can't find it. Why is this coming to me at this time. What am I not seeing?

Frozenness and fear

:

After scanning for my responsibility in this and not finding anything obvious, a surge of fear moved through me!

Reading these threats!

OMG,

what

are

they

going to d

o

if I don't …? I'd better tip-toe and make

invisible

waves to avoid ….

Shall I just write a non threatening letter and let

them

know that I'll do…  

even when it isn't

true?

Defense: The initial shock and collapse have passed and now I'm ready to defend for my life:

"This is

so

off, and

so

wrong. What is wrong with these people!" Part of me want

s

to write a nasty letter back and let

them

know that

they are

making all this up,

and that

they

need to back off!

More fear: Being so direct feels scary in a situation like this. I know

they

could possibly do things to hurt me, although not physically. Is it worth it? Is it best to comply with someone like that and keep the peace?

Rage: OK, here it comes: Then 

I Felt

a surge of

rage

move through me. I

t was a HUGE energy. If you've ever felt rage without suppressing it or acting it out, you know

how intense it is. And with it comes

a

feeling of

revenge. I

recognized my mind's suggestion to behave in a not so conscious way and

 had to giggle. I recognized the same suggestions from similar past wrong accusations.


Anyway, b

eing who I am, I Know how to make space for my Feelings and experiences, so I just Allowed this rage to surge through me, with a big curiosity and willingness to Listen to it and learn

from it

.

Transformation:

I know from past events that rage is a natural reaction when you are treated unjustly. It's just an energy that needs to be experienced in order to learn, act and grow from.

So here I am, letting this HUGE energy surge through me without a trace of resistance, fear or shame. More like a "Wow, this is HUGE." "I wonder what will happen if I just let it get as big as it needs without any resistance on my part." In the process I felt some tightness in my belly, some shivering in my throat, and a lot of inner dialog.

I

t felt really good to make space for this energy

and let it move to completion

. Slowly

the shivering, the tightness and

the

defensive dialog subsi

d

ed

, and left me with a strong feeling of pure Empowerment. Now I was in my

P

ower. Now I was grounded in my Divine Authority. Now I had landed in the good feeling of being me.


I Allowed that to be fully experienced too, just like the rage. This rage energy may be big inside,

yet

it is very calm, centered and clear when you listen to it. It does not need any specific outward expression, except a right action that naturally arises out of the clarity. 
Becoming A Chrysalis For Empowerment
By being able to Allow the energy of rage instead of expressing or suppressing it, you release an unconscious stuck energy from the past and help it transform into a more conscious one. The reaction and revenge comes from a less mature part inside, who never learned to manage it more consciously.
The tipping point is right at the moment when you Feel the rage (or your version of it), take a step back so it can move through, and then be curious of what it is and what it wants to say. This is where Mindfulness comes in handy! At this point, you are just a passive bystander, observing this energy. It does not need your help, other than keeping your hands off, listen and learn. Let it ramble, rattle and roll, while you just hold space for it.
At this cross road you transform an unconscious reaction into a conscious response. You change from being in the grip of rage (or your version of it) to becoming a chrysalis for empowerment.
All that this rage wanted to say was: Pernilla, stay in your Divine Authority. Don't give your energy away by arguing or defending. Instead clearly say No to what is not true for you and Know that that is enough for now!
You see, this rage had nothing to do with anybody else but me. I was the one who gave my Authority away be leaking energy into defending and arguing (in my own head!)
After that transformation I sweetly experience mySelf as a new energy –  an even deeper part of my Divine Authority. Here it's so obvious that all I want is to Be mySelf -my Soul wanting to Be True to itSelf and Express itSelf. This has nothing to do with defending or justifying. This has nothing to do with anyone else. If anything, it's them being a catalyst for me to take a deeper step into my own Divine Authority.
Thank you!
Mindfulness Is Essential To Pull This Off
In order to pull this off, you're going to need a good backbone of Mindfulness, because you have to desist the temptation to act from revenge. Revenge may imitate the Power that you are looking for, but it is not the same. Revenge is a symptom of lack of inner Power and the only way it knows how to survive.
True Inner Power is your Divine Authority. This is not moved by fear and survival.
As long as you are doubting yourself and doubting what is true for you, you have not yet fully embraced your Divine Authority. Any seeming outer challenge is for you and I to challenge our own lack of Authority in any situation.
In my case, even though I knew I was in integrity, I still felt a need to defend my innocence. I wasn't fully settled in my own innocence and Authority, and the rage helped me see that.
It took me more than one 'sitting' to learn this. Mindfulness is an essential part of growing out of your reptilian brain and into your Divine Authority. It's easier when you have an extra pair or eyes seeing what stands in your way to make this connection.
Learn more about me as a Self Love Mystic & Mentor at Divine Feminine Flow. If you want to learn more about mindfulness, please start with the Meditation & Mindfulness course. Feel free to contact me for a free 30 min. Discovery Session to learn how true Self Love can turn your whole life around.