The Female Collapse Has A Happy Ending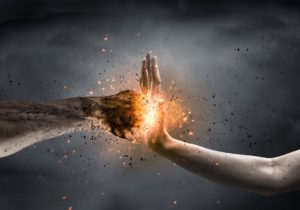 I wrote an article recently called The Female Collapse for the online magazine YourTango, which I would like to share with you here. However, I want to add 'and Her Rising' in the title, to make sure you know it has a happy ending.
Many years ago I found myself in a 'less than supportive relationship,' where the daily interaction was mostly flavored by being put down/made wrong and then me defending/justifying myself.
What a pattern!! I felt pretty stuck and didn't know yet there were other options than defending myself.  It took me quite some inner wrestling before I was able to rise up and finally get out of that relationship. It took some more time to get my inner foundation so strong that that kind of behavior didn't effect me anymore.
~Here is a small excerpt from the article:
"Why are you always so sensitive and demanding?" came back at me after my short lived victory.
"I'm not sensitive and it is not demanding to honor my Self! It's good for me and I keep hoping that you'll see that."
I started feeling that familiar sensation in my belly of falling – collapsing, along with a shallow and constricted breath. Darn, I was defending myself again – a sure sign that I was pulled right back into the trance … ~
If you want to read the full article, please go here.
The Female Collapse Is Fueled By The Tendency To Put Yourself Down And Doubt Yourself
I keep seeing how we as Women still have the tendency to put ourselves down, doubt ourselves, compromise our deeper values and judge our beautiful bodies for looking different than what the media suggests. Many years of deep inner work and committed spiritual practices are essential, but not always enough to stop those tendencies.
We've accepted those beliefs about ourselves for so long and had them reflected back to us from our partners, bosses, culture, media and government, so we're talking about some pretty sticky stuff here. Sticky and smelly and hard to rinse off. Along with the deep inner work and spiritual practices, I highly recommend one of my favorite tools called True Self Love combined with a supportive group of Women around me.
This is a universal pattern that we've all bought into for a very long time and it really takes all of us to join forces and collectively leave it behind. It is not true anymore. Well, it never was, but now we know that and need to take the needed steps to rise up from this collapse and restore sanity on our beautiful planet.
I have written and talked a lot about this subject and I invite you to explore more on my website if you feel called to rise up too and become one of the Women Standing for Love or Young Empowered Women. We are the ones changing the world.
If you feel ready for your next step and learn more about my work as a Self Love Mystic & Mentor at Divine Feminine Flow, feel free to contact me for a free 30 min. Discovery Session to learn if her Self Love Mentoring can help you stand up strong again and live a more empowered life.