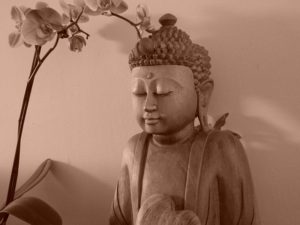 Inside each one of us, lives a Wise, Loving Being that has your best interest in mind. This Being is invisible and intangible. The way It gets your attention is through your Heart. Well, not just your physical Heart, but your emotional, Energetic Heart, right in the middle of your chest. This Being speaks to you in many different ways, one of which is through the Feeling of Longing.
Have you ever noticed that when you Long for something, the Feeling of that Longing is somewhere in your chest? And whatever it is that you are Longing for is something that you know will make you happy? A warm fuzzy feeling?
Well, your Heart is wise and when you pay attention to it, will guide you through your life in the most Loving way possible. When you know how to connect back to this Being inside, it will show you how to follow your Heart to Happiness – a Happiness that doesn't need anything from the outside world to Feel this way.
The How To Follow Your Heart To Happiness Depends On Your Direction
However, there might just be one little glitch that has been getting in the way for you to experience this Happiness. It lies in the direction of your attention. If the Feeling of Happiness is eluding you, you are likely moving away from the Longing instead of towards it.
I remember many years ago during some deeper inner work, I experienced a deep Longing to find my Soul mate. I felt a deep unhappiness inside as well as a feeling that something was missing. On deeper introspection, I noticed that this Longing was surrounded by a 'pain of not having it.'
When you consciously go inside to explore your inner world, Allow space for what you find and stay open to Learning from it, it's quite remarkable what your body and Heart will show you. It was very clear that this pain around the Longing had gotten all of my attention, hence had become the direction I was moving in.
No wonder I was unhappy! No wonder I felt lonely!
Because I had been so wrapped up in the pain of not having, which is what I believed the longing to mean, I completely ignored the sweet Felt Sense of the Longing itself. With that I missed out on its Gift.
Could it be that you are moving out into the world too, hoping to find what you are Longing for out there so you can feel Happy. And if you don't find it … well, then you'll be unhappy?
What Happens When You Change Direction
There was so much clarity when I saw how this Longing, surrounded by my mind's misinterpretation of it as pain, was the cause of my unhappiness. It was the reason I missed out on Feeling Happy. In that clarity, I also became aware that I actually had access to a choice that I was not aware of moments before. The choice was to be curious about the Longing itself, instead of believing my mind's narrow view that it meant I didn't have 'it,' which  made me feel unhappy.
This newfound curiosity had me inquire into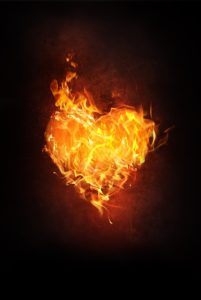 What is this Longing 'thing'?

What does it Feel like?

Where does it come from?

What is it trying to tell me?
I turned my attention 180 degrees around and headed straight into my Heart area where I felt the Longing – a burning Longing. My curiosity about the Longing allowed the Longing to reveal itself to me. Suddenly we had a two-way communication and I realized it had wanted my attention all along. Silly me: I'd been turning away from it – or shall I say, running away from it – into the world trying to ease the pain, which didn't have anything to do with the Longing. The pain had to do with the way my mind misinterpreted the Felt Sense of Longing, and they turn out to be two completely different things.
It was quite a discovery and literally changed my life. Today I Love the Feeling of Longing.
The Deliciousness Of Longing
This Longing itself is the sweetest, most delicious Feeling I had ever felt, after I finally stopped covering it with my minds understanding/misunderstanding. Now it could let me know what it actually is, and let me tell you, it is GOOD! The Longing started teaching me about itself and gave me a whole new way of approaching it. Actually, the Longing IS the Love I was seeking, as strange as it may sound.
It was telling me: "Go here, come here! I am what  you are looking for. I am what you are Longing for."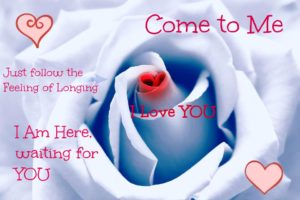 Dear One, your Happiness is not out there. Your happiness is inside the Felt Sense of the Longing and when you make a U-ey into that Felt Sense, you'll start tasting the natural sweetness as the Flavor of your own Heart. Talk about Happy! It all started to make Sense.
The Mouthpiece Of The Divine
If you were God and wanted to get YOUR attention, how would you do that?
In my case I realized that the Longing is the mouthpiece of God and a sure way to get my attention. It's as if the Divine is saying: "I'm here, SweetHeart, right here. Can you Feel me?"
How I completely missed that for so long is mind boggling.
I guess we have all been misinformed in so many ways for a very long time. Many areas of our lives are upside down and cause us tremendous unhappiness. Longing is one of those areas where we've been conditioned to believe that it means we need to get something outside to fill up this seeming lack. The media is really good at sending you out there with your credit card to fill up this misunderstood Longing. Only few will go in the opposite direction, take the time and energy to move into what first feels like pain, move through it and open yourself up to a new experience.
Let's bring upside up again and downside down, and realize that the Longing you Feel IS Love.
Your Heart Is Wise – Literally
It is well known today that the Heart actually functions like a brain and some say it is even more intelligent than the brain. HearthMath says it this way:
"Most of us have been taught in school that the heart is constantly responding to "orders" sent by the brain in the form of neural signals. However, it is not as commonly known that the heart actually sends more signals to the brain than the brain sends to the heart! Moreover, these heart signals have a significant effect on brain function—influencing emotional processing as well as higher cognitive faculties such as attention, perception, memory, and problem-solving. In other words, not only does the heart respond to the brain, but the brain continuously responds to the heart."
HeartMath also states that the Heart is more powerful than the brain.
Mind Interpretation Or Heart Experience?
With that understanding, doesn't it make sense to spend some more time learning about how your Heart functions beyond the blood flow and beats per minute – and specifically beyond your mind's misinterpretation? Wouldn't it be interesting to see what happens when you follow the Felt Sense of Longing right into your Heart and let it speak to you through your Senses and Feelings?
The Mind Cannot Interpret The Heart Correctly
In my book Imagine Being Kind To YourSelf, you'll get a deeper understanding of how the mind and the Heart don't speak the same language. Just like someone from France won't understand Chinese, in the same way the mind doesn't understand 'Heartish.' There has to be some kind of communality between the 2 in order to understand each other. Interpretation without really Knowing the language is not enough.
We are conditioned to let the brain interpret what the Heart is Feeling, and the outcome is usually pretty limited and fear based: "I'm lacking something – I have to fill that lack." A clear misinterpretation.
Now let's see what happens when you reverse that and let your brain Sense into what your Heart is experiencing: "I'm Feeling a warm fuzziness and it makes me Feel Happy and Full – I don't need anything."
If your Heart is wrapped up in your mind's misinterpretation of it as something lacking, it will take a little practice get to the Felt Sense of the Longing itself. You need to learn to tune into – Sense into – the Felt Sense and not let the mind interpret it by default. It really is like learning a new language, which you can read more about in this previous article.
It will take a little time and effort, but once you pierce through the wrapping and Feel the Longing you'll be so Happy you did – and you'll know why too. Please try it out and see if you can separate the Felt Sense of the Longing from the mind's interpretation of it. They really are two separate experiences with each their own path to either Happiness of unhappiness.
As always,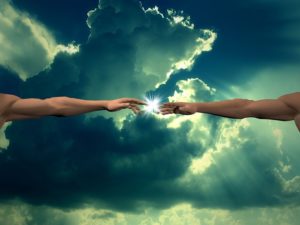 if you need help, please reach out to me. That's what I'm here for. My Heart 'told' me so 🙂
My articles are an ongoing exploration how to learn to get into full alignment with yourSelf through Self Love, Following Your Heart, Mindfulness and Awakening. Please browse through my previous articles and pick up a piece here and there so you can see that every 'peace' fits with into another 'peace.' and brings more Peace and Happiness into your life. Eventually it starts making Sense because you are learning the language of your Heart – Heartish  – and getting in touch with your Inner Sense. This expresses itself as the Feeling of Happiness inside as well as your Guide to match that in your outer life experience.
Those two – inner Feeling and outer Expression – are actually the same.
Is happiness still eluding you, even if you agree with everything in this article? You can learn more about my work as a Self-Love Mystic & Mentor at Divine Feminine Flow. Feel free to contact me for a free 30 min. Discovery Session to learn if Self Love Mentoring can help you connect with your Heart and experience more Love, Peace and Joy in your life and how true Self Love can turn your whole life around. Also, download my free e-book, 5 Steps To Dive Into The Divine Feminine Flow which will help with the next phase of self-love.